Junior Sales Representative | France
Updated: 06 Aug 2020
link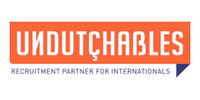 Sales
Nijmegen
Every day at the company is unique but your main daily tasks will be to:
• Communicate with your team
• Be on the phone with clients and to your best to keep them happy
• Enter your sales activities in the CRM
• Follow up with leads
• Spend some time chatting with your colleagues overseas
• Try to learn something new every day
• Share ideas to help them improve
Requirements:
What they are looking for:
• You speak French on a C2/business level.
You have 0 to 1 year of work experience in total
• You are motivated by achieving your targets
• You are not afraid of the phone, social media, or just people in general
• You are a true team player
• You enjoy learning and you do it fast
• You enjoy sharing good food with multi-cultural people
• You are full of energy!
Salary Benefits:
What you get (or can get in the future)
• Uncapped earnings (base salary of 2000€ + commissions (min. 250/month) + laptop + phone)
• Potential to quickly grow in M&R (moneys and responsibilities)
• Full and recurrent training from the start • International feel in a multi-cultural team across several countries
• Opportunity to participate in an amazing adventure that starts now and hopefully never ends
About the company:
Our client is an independent IT hardware and services reseller founded in 2006 and headquartered in Nijmegen, the Netherlands. They buy and sell IT equipment and IT services (B2B only), operate in more than 80 countries and have offices in 4 countries. Our client is one of five IT companies, belonging to an umbrella group headquartered in Europe and Asia. They always lookout for new opportunities and hire great talents, which is always an occasion to introduce some fresh perspective to their business. Our client is looking for an energetic and positive person who will join a fun team to help grow the French market. If you are looking for a challenging yet rewarding position with opportunities to continuously learn and improve, keep reading.
Address:
Windmolenweg 15