Reach your targeted customers through the most influential media platform for internationals in the Netherlands
CONTACT US NOW
WHY ADVERTISE
Founded and run by expats, IamExpat.nl is the leading English-language media platform providing up-to-date information, news, job listings, housing services, events and lifestyle tips for internationals in the Netherlands since 2009.
Expatriates are hard to reach via traditional media advertising platforms. IamExpat offers a direct channel to the growing international community of highly educated, multilingual and career-oriented individuals. With our modern and user-friendly website, advertising campaigns are delivered in the most effective and engaging way, across all desktop and mobile devices.
Using insights and data on the expatriate market, IamExpat has helped hundreds of companies from various industries to generate awareness and targeted leads for their products and services.
AUDIENCE
14.2M
Pageviews (per year)
9.6M
Visits (per year)
5.4M
Unique visitors (per year)
160K+
Social media followers (Facebook, Twitter, LinkedIn, & Instagram)
57K+
Newsletter subscribers
200+
Different nationalities
88%
Already have a bachelor degree or higher
53% | 47%
Female & Male
%
Age
FAIRS
The IamExpat Fairs are the leading expat market events designed to connect local businesses and the international community in the Netherlands. Whether you want to promote your services, introduce new products, build brand awareness or network, these truly international, one-day events are the perfect opportunity!

The annual IamExpat Fairs in Amsterdam and The Hague attract more than 5.000 unique visitors and 135 exhibitors every year as well as 45 presentations & workshops.
Upcoming IamExpat Fairs
November 4, 2023 - The Hague - Grote Kerk
April 22, 2023 - Amsterdam - Gashouder
JOB POSTING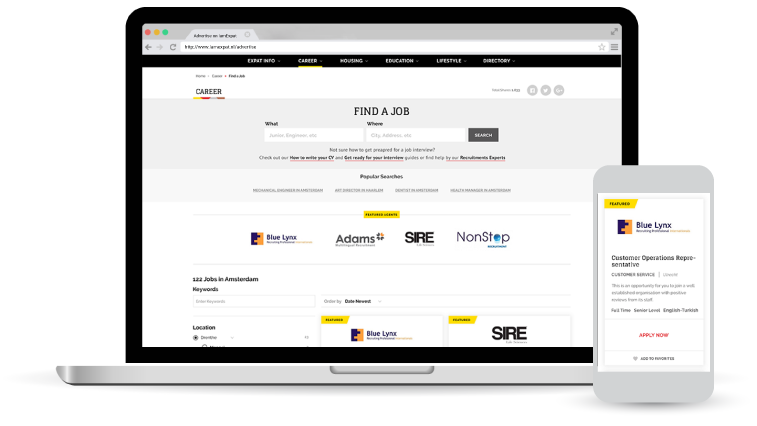 IamExpat Jobs helps recruiters attract skilled internationals and provides expats with a targeted, English-language job board.

Companies and recruitment agencies that want to hire international candidates in the Netherlands can post in English. Available options include manual posting, XML feed and multi-posting platforms (Broadbean, InGoedeBanen, Knollenstein). Visit this page for more information.

Companies and recruitment agencies that have used IamExpat Jobs include Abroad Experience, Adams Multilingual Recruitment, Booking.com, International Court of Justice, Independent Recruiters, Octagon Professionals, Projob, Travel Bird, Undutchables, Unique Multilingual, Randstad Multilingual and many more.
HOUSING
Feature your properties in the top search results to get maximum exposure and receive targeted, quality leads directly. The properties will appear at the top of the search results as long as these match the search criteria.

Apart from all recently uploaded properties, you are also able to promote one property of your preference for a specific period. This property will be featured at the top of the search results, as long as it matches the search criteria. Visit this page for more information.
WEBINARS
IamExpat hosts and promotes webinars presented by our partners on a wide variety of topics. The webinars take place on an agreed upon date and time and are recorded so that the material can be used again in the future.
With IamExpat Webinars, you can reach a wider audience with no geographic limitations; anyone with an Internet connection can join! Take the opportunity to enhance your brand identity and spread your expertise and know-how online. The IamExpat webinars allow you to use audiovisual material, polls, presentations, and live chat to engage directly with your target audience and grow your client base.
We also enable you to generate quality leads from our webinar's registration process upon the registrant's consent.
Brands we work with
IamExpat's commitment to value creation for clients and excellent customer service has increased its clientele base to more than 600 accounts on a yearly basis, from various industries such as financial services, relocation, executive education, entertainment, career development, recruitment, legal services, insurances, real estate and more. Indicative list: