Junior Account Manager | French
Updated: 25 Feb 2021
link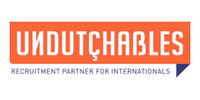 Sales
Utrecht
French
What are the challenges of a French-speaking Junior Account Manager?
You will cross-sell and up-sell with the clients in your portfolio using various channels: FtF, over the phone, via email, through social media etc.
You will put commercial efforts into finding new prospective clients and building long-lasting relationships
You will keep the forecast in mind to plan your present and future sales
You are going to be responsible for the full-cycle client journey: order processing, collecting and following-up on payments, plan the logistics
It is also needed that your keep the company system updated with all client-related information.
Note: your clients are going to be contractors, designers, architects, carpenters, distributors etc.
Requirements:
Who are you?
You speak excellent French and English (mandatory). An extra European language would be considered a strong plus.
You have a bachelor's degree (mandatory) in a STEM subject, Business Administration or related field.
Ideally, you have affinity and interest in architecture, interior design or similar. (please, outline this in your application if applicable)
You have 1-3 years of work experience in a similar commercial role, preferably B2B
You are fine with travelling to France for around 25% of the time (depending on the travel-restrictions)
You live in the Utrecht area
Salary Benefits:
What are you going to get in return?
An attractive salary, based on your knowledge and qualities
An attractive bonus scheme, depending on your team
A commuting allowance
An insurance allowance
About the company:
This client is a stimulating and growing company that has a small newly-established team that focuses on selling surface-boards for indoor usage (ex. kitchen counters, receptionist desks). Are you ready to accept this challenge and join them in their mission? Then apply to become the next Junior Sales Representative of this international company based in the center of beautiful Utrecht.
Address: