Application Developer C#
Posted: 16 Aug 2019
link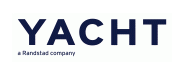 IT & Technology
Eindhoven
Company information Yacht is a contractor for highly educated professionals (BSc, MSc, or PhD) who'll work on site and innovate together with our customers to find smart solutions. Being part of the world wide Randstad Group we have an extensive network of clients and professionals. Working as a high tech professional within Yacht means you will work on interesting and challenging long term projects for our clients in the Dutch "Brainport" Eindhoven region, mainly on projects at our clients' ...
Requirements:
Job requirements
BSc/MSc degree in Computer Science, Engineering or a related subject
Minimum of 5 years' OO software design experience, including documentation (technical requirements, design and development/automatic development tests) in a technically complex field
Senior in C# .NET and WPF
Able to create a robust software design
Architectural insight
Proven experience with Agile/Scrum
Good written and verbal communication skills in the English language
Medior in C++ (advantage)
Interest in industrial automation (required) and familiarity with mechatronics (advantage)
Experience with 3D rendering (advantage)
Experience in the medical domain (advantage)
Experience with model-based code generation using Simulink (advantage)
A
pply now: click on the button "SOLLICITEER"
Address:
Eindhoven