IOS Development Intern
Updated: 27 Mar 2019
link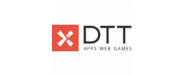 IT & Technology
Amsterdam
What we do at DTT? 
We work passionately on a perfect mixture of technology, strategy, and creativity. DTT develops apps, websites, and games for iOS, Android, and web since 2010. Among our clients, you'll find solutions for the best companies, such as The Dutch Chamber of Commerce (KvK), Greenpeace, KPMG, ING, Fox Sports, Porsche, Erasmus MC and The Dutch Government.
At DTT, you work in teams on beautifully designed and successful (inter)national projects. As an intern, you have a lot of responsibility and influence on the projects yet to develop. All projects, large and small, receive full attention at DTT, so we can use your help!
With who will you work?
At DTT, you are in close contact with all teams: Strategy and concept, UI/UX design, development, quality assurance, and project management. During projects, you will work with a multi-disciplinary team and you can always ask your colleagues for help if you are stuck on something. We prioritize creating a familiar and supporting environment, where you feel understood and valued. We are one team with more than 60 talented and friendly colleagues from countries all over the world, who  all have  the same objective in mind: To keep developing our company and come to amazing and high profile-deliverables.
Ofcourse, you will be part of a specific team, the iOS team. The iOS team has more than 8 excited colleagues, all with a passion for development and with vast experience. 
What will you work on? 
You'll work on projects of the highest quality with: millions of downloads, high ratings and gorgeous designs as result. The focus will be on delivering the nicest projects and the possibility to improve yourself and the company.
You'll work on the best projects:
I Amsterdam Maps & Routes
Greenpeace
OSR Star Finder 2.0
Pirates & Privateers: Multiplay AR game.
Listen & Play
With great results:
High rankings
Good reviews
Beautiful press moments
International downloads.
How do you fit in our team? 
We like to see the following qualities in you:
At least intermediate vocational education-level of professionality and intellectual ability
Pro-active and result-oriented attitude
Sense of responsibility
Good command of English
You are excited about working on cool projects and are able to work in teams
You can work with deadlines and have feeling for quality and details
Knowledge of the programming languages Swift and/or Objective-C
Knowledge/Experience of design patterns and architectures is an advantage
Development is something you really like to do
What will you like about your work at DTT? 
We understand that working time and free time are often seen as complete opposites, but this doesn't stop us from making working time as fun as possible:
A challenging role in a fast-growing and dynamic company close to Amsterdam Central Station.
Working in a cool office with the possibility to play games on your favourite consoles.
Responsibility and initiative: as an intern, you have real responsibilities and the possibility to make a difference with good ideas.
You have the freedom to learn and build on your own ideas. For example, there are multiple teams created as initiatives to improve current processes. There is also room for in-house development of good ideas from our colleagues, for example see our in-house AR-game Pirates & Privateers: Multiplay AR game!
A decent internship allowance.
A well-stocked kitchen, so you won't have to spend a lot of money on getting lunch.
Besides that, you can enjoy our famous:

Asian-food-Tuesdays
Soup-Thursdays
Pizza-and-fries-Fridays

Every week a cool Friday afternoon drink (till late in the evening).
Once every few months a team social where you see DTT, your colleagues and Amsterdam from a whole different side.
Inspiring knowledge sessions by enthusiastic colleagues or externals.
Apply via the "Apply now" button. Do you have any questions? Our HR department will be glad to answer them. Contact us at apply@d-tt.nl. 
DTT is an ECABO officially recognized training company.
Please, note that DTT is not providing relocation and visa support for countries outside of Europe.
Are you applying from outside the EU and do you not have a student visa? Please make sure that you clarify about how you plan to legally arrange your stay in the Netherlands with regards to e.g. permits and visa.
No agency calls, please.